See how we Maximised Retail Space for cottonmount workwear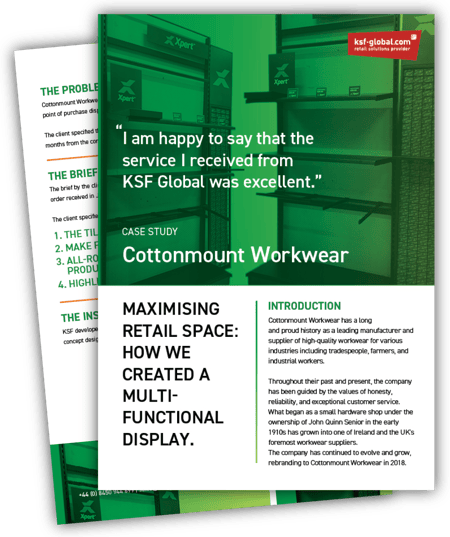 When Cottonmount Workwear approached KSF Global, they had a clear vision in mind: to create bespoke displays that would optimise their retail space and offer a multifunctional solution.
The Challenge
The challenge was to deliver these displays within a tight timeline, with the client aiming to have them in their stores just four months after completing the prototypes.
The Solution
KSF Global embarked on a mission to design an unforgettable in-store experience for Cottonmount Workwear. Our goal was to seamlessly merge functionality and style, captivating customers from the moment they entered the store. By meticulously organizing the display layout, we ensured optimal space utilisation without overwhelming shoppers. Clear branding and concise product information were strategically placed to empower customers, enabling them to quickly grasp the unique features of each workwear item.
The solution was an innovative display concept that seamlessly blended form and function. With strategic placement of key products and a focus on intuitive navigation, we transformed Cottonmount Workwear's retail space into an inviting and engaging environment. Our displays not only showcased the workwear collection but also emphasized the brand's identity, creating a cohesive and immersive shopping experience.
Download the Case Study to Learn:
The brief from Cottonmount Workwear that included bespoke displays for their workwear store, point-of-purchase displays, gondolas, free-standing displays, easy tile copy replacement and highlighting key products.
See images from the entire process including the manufacturing, logistics and the final pieces.
How we created a well-organised and multi-functional display that effectively utilised the available retail space.
The quick turnaround of 150 wall unit displays, 100 mid-floor gondolas, and 65 footwear gondolas within a 4-month timeframe.
See how the project was supported by strong project management, regular updates, and effective communication with the client.
Fill in the form to Find Out More about this project
Embark on Your Journey to Retail Excellence
Ready to transform your workwear retail experience? Partner with KSF Global, the industry leader in bespoke display solutions. Contact us today to explore how we can elevate your store layout, captivate customers, and drive exceptional results.