Discover how KSF Global partnered with Skechers to deliver exceptional results in a challenging environment
Skechers required shelving and displays for two showrooms in the UK and Ireland to showcase their product ranges to key retail partners. KSF Global is committed to helping by leveraging our international operations and local execution capabilities.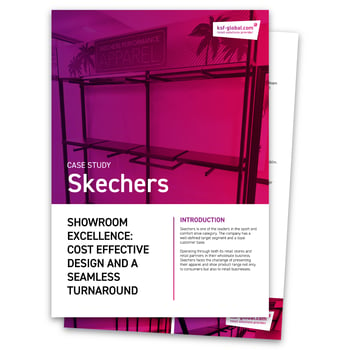 Download our in-depth case study to explore:
Cost-Efficiency: See how KSF Global helped Skechers reduce their costs by over 50%.
A Speedy Solution: Learn how we went from concept to installation in just 6 weeks, meeting the client's critical timeline during a seasonal change.
Versatility in Design: Explore our adaptable display shelves that cater to different product categories, providing flexibility for Skechers.
Seamless Execution: Dive into our flawless installation in two showrooms across the UK and Ireland, with the client highly satisfied with our project management.
Customer-Centric Approach: Understand how we approached the project with a deep understanding of Skechers' pain points and proposed suitable POS display formats and styles.
International Expertise: Discover the benefits of our rich international experience and strong local execution capabilities.


Don't miss this opportunity to gain valuable insights into successful project management and cost-effective solutions. Download the PDF now and learn how KSF Global can help your business thrive!
FILL IN THE FORM TO FIND OUT MORE
---
Embark on Your Journey to Retail Excellence
Ready to transform your workwear retail experience? Partner with KSF Global, the industry leader in bespoke display solutions. Contact us today to explore how we can elevate your store layout, captivate customers, and drive exceptional results.