Embrace Creativity with Reliable Retail Design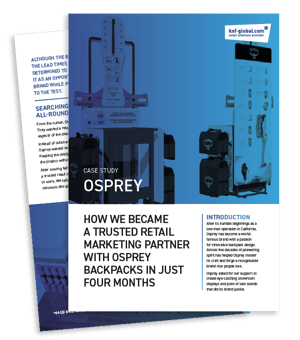 Working with external retail solutions providers to bring your brand to life can be tough.
Whether it's dealing with the blow of spiralling costs or facing repeated delays, finding a reliable provider who understands your business doesn't need to be so difficult.
When Osprey reached out to us with an ambitious brief to promote their world-renowned backpack brand, we embraced the challenge.
We loved the opportunity to put our global supply chain to the test and prove that we can deliver an affordable and quality service within tight time constraints.
Download the Osprey Case Study to Learn About:
How we took three projects from the drawing board to the shop floor in under four months.
How we helped Osprey enhance its brand with a combination of showroom Slatwall systems, luggage plinths, pack stands, weight bags, display frames, and packing stations.
The logistics of our global supply chain and how we used mass-production to deliver Osprey's retail fixtures at the fraction of the cost.
How we used our UK-based factory on smaller projects to deliver super-fast turnaround times. We understand delays can be frustrating, so we make speed a #1 priority.
Why Osprey chose to work with us. Reliability and consistency are at the core of what we do. Discover how we combined fifteen years of industry experience with our flexible approach to deliver Ospreys brand vision in record time.
Here at KSF Global, we're proud of our ability to deliver quality results and establish ourselves as a trusted retail marketing partner with Osprey in a matter of months.
Throughout the project, we worked closely with the customer to understand their specific needs and exceed expectations.