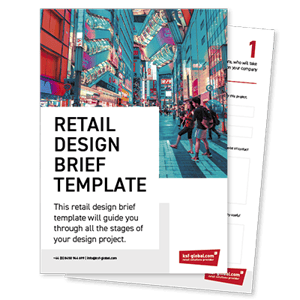 Just getting started on a new retail project? Then you need to download our free retail design brief template!
When creating a new retail design brief, it can quickly become a bit of a jigsaw. Trying to figure out what information you need and how to pull it together can take time but having a set master template to work from can make the task much simpler.
We have worked with brands, retailers and contractors who struggled at the start of their project as they discovered the design brief was missing vital information. So, we created a template to take away all the stress from the start. It's been working so well for our clients that we have decided to share it with all of you.
THE DESIGN BRIEF TEMPLATE FOR ANY SIZE PROJECT!
Our retail design brief template will guide you through all the stages and considerations of your retail design project. Each section is mapped out to help your team to communicate your ideas, schedules and needs clearly. This template is perfect for any sized project working locally or globally.
Just download the template, fill it out and share with your designers and manufacturers!
OUR FREE RETAIL DESIGN BRIEF TEMPLATE
COVERS:
O

utline your business

goals

Drop all your ideas and inspirations into one place

Express your design needs and specifications

Understand potential issues in your design and manufacture process

Map out your retail design expectations

Create a timeline from concept to delivery