DISCOVER HOW RETAILERS and BRANDS ARE PLANNING FOR THE FUTURE
Are you working on adjusting to the 'new normal' that COVID-19 has left behind? Wonder what other retailers and brands are doing to adapt?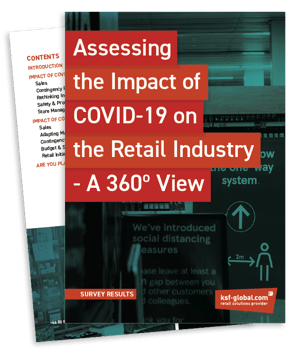 COVID-19 has rocked the retail world, but many retailers and brands are finding innovative solutions to the challenges they face. We've surveyed brands and retailers to deliver an exclusive look at how they're coping with the situation and planning for a brighter tomorrow.
KEY INSIGHTS IN OUR STUDY:
66% of participating retailers said that their stores were not at risk of closure.
83% of respondents have developed innovative strategies for their products, marketing or operations to help overcome financial difficulties.
66% of our respondents expect to change the layout or design of their stores to keep employees and customers safe.
All retailers have taken steps to protect both employees and customers as a result of the outbreak.
The survey examined how brands and retailers are planning their marketing and promotions, future-proofing and adapting to comply with the new guidelines. In the report, you'll also find out where companies have cut costs, re-positioned store layouts, and invested in innovative marketing strategies to account for the new climate.
fill out the form to DOWNLOAD the REPORT
Retailers and brands are operating in an unfamiliar territory. Our report provides an accurate assessment of the retail sector to help our global network of brands and retailers plan for the future.