LIMITED BY YOUR DISPLAY STAND DESIGN? TAKE A LESSON FROM THIS BRAND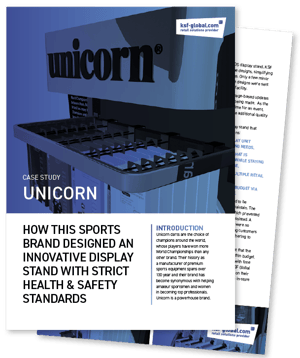 Are you trying to find a new creative way to display your products but you're limited by health and safety restrictions?
Creative innovation and functionality is a fine line most brands face when it comes to designing POS display stands. However, it does not need to become a huge challenge as long as you have the right design strategy in place.
In the past, brands have had to sacrifice good display design so they can continue to sell health and safety restricted products but it doesn't need to be that way.
It comes down to literally designing outside the box. Innovation and health & safety can meet in the middle to create a retail unit that works. We have been fortunate to work with one of the world's biggest specialist brands that faced this exact problem.
DOWNLOAD THE POS DISPLAY STAND CASE STUDY TO LEARN:
How this

brand

was able to create a stunning new POS display stand that uplifted sales while meeting health & safety standards

. 

When to use rendered concept designs to drive a retail project forward

. 

How using a design brief template from day one, can revolutionize turnaround times and delivery speed

.

 

Where KSF Global made huge savings on the project when creating an innovative prototype that disrupts the market

.

 
The KSF team were able to boost the client's retail sales and create a new process of design and manufacturing that was quicker and easier to manage. KSF Global continue to work with this retailer, helping them to better understand their market positioning, plan their annual schedule and lower the overall cost of their projects.