See how KSF Global created a Permanent Free standing display for this kitchenware brand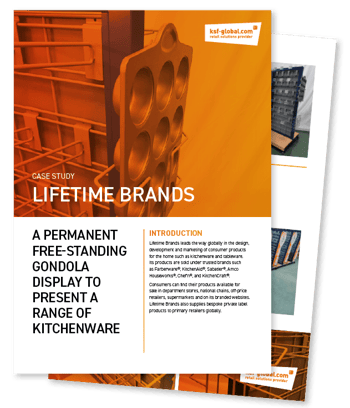 Lifetime Brands commissioned KSF Global to create and supply a permanent free-standing gondola display, presenting and promoting a selected range of kitchenware to a leading US retail chain.
The display needed to be adaptable for different packaging shapes, with a strong branding message to drive sales.
Download the lifetime brands Case Study to Learn:
The overall journey from design to delivery of the free-standing display units.
How the display was adapted for different packaging shapes.
The strong brand messages that were included.
How KSF Global achieved low-cost shipment and easy storage.


KSF Global was able to deliver on the brief, fit in with the customer's budget and work to a tight deadline. This was thanks to our global infrastructure and our team that works tirelessly to create a seamless project for the customer, spanning multiple time zones and involving teams located around the world.
The customer was extremely happy with how KSF Global managed the entire project from start to finish and, above all, with the end product.
Fill in the form to Find Out More about this project