See HOW KSF'S END-TO-END SOLUTION HELPED THIS BRAND SECURE PERMANENT FLOOR SPACE IN A LARGE U.S. RETAILER
KSF was referred to DGAmericas due to the impressive work, we had carried out for a similar roll-out at the Kroger chain stores for Lifetime Brands.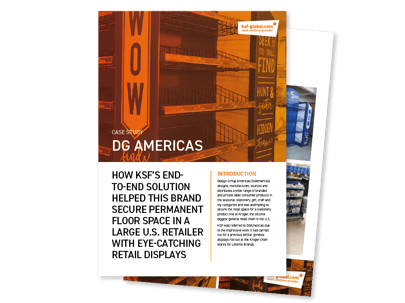 The project involved providing a permanent display to replace the cardboard displays being used, with the aim of securing retail space.
The retailer had a tight deadline for completion, which added an extra layer of pressure. This was the first permanent display project for DGAmericas, so it was critical to get it right and make a good first impression.
Download the DG Americas Case Study to Learn:
How we helped the brand to secure permanent floor space in a large US retailer
The eye-catching retail displays that we created
How we replaced the less durable cardboard displays with a permanent retail display
What methods we used to ensure that the tight deadline was met
See images of the entire process


KSF were able to not only meet the customer's expectations but exceed them. Although this project was challenging, both in terms of a tight deadline and the scope and scale of the project, KSF was able to deliver each stage by the deadlines set.

By providing a bespoke end-to-solution to DGAmericas, KSF was able to demonstrate that it can work successfully with large retailers in the U.S. on behalf of brands throughout the project journey by providing a full suite of services at competitive prices and in a tight timeframe.
Fill in the form to Find Out More about this project