Achieve Your Brand Vision at Scale with Retail Clothing Display Fixture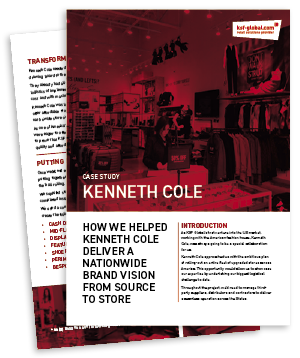 Bringing your brand vision to life is no easy feat, especially if you need to roll it out across many stores or a large area.
When Kenneth Cole approached us, their internal marketing team had developed a new brand vision. But, they needed help transforming their idea into a reality and handling the logistics of implementing it across an entire fleet of stores.
As our first project in the American market, working with Kenneth Cole represented an exciting opportunity for us. This project allowed us to showcase a wide range of creative retail display solutions, as well as our ability to manage complex supply chains and logistics.
Download the Kenneth Cole Case Study to Learn:
How Kenneth Cole executed a nationwide brand overhaul by partnering with a provider who could deliver affordable store fixtures and demonstrate impressive operational capacity.
The logistics behind installing store fixtures, managing stock, and coordinating distribution across all the entire US.
What materials and retail display stands we used to bring their brand vision to life.
How proactively planning and exceptional customer service saved the day by preempting challenges.
The value & ROI of hiring a retail design partner with over 15 years of experience and extensive Chinese supply chain.
The team at KSF were able to deliver impressive results for Kenneth Cole, including a 30% savings in production costs. Throughout the project, we worked closely with Kenneth Cole to understand their needs and deliver on time, budget and requirements.
Fill in the Form to Find Out More About Retail Clothing Display Fixtures